Do you want to surprise your loved one with a thoughtful and fun birthday gift?
A personalized birthday crossword puzzle is a great idea to make someone's birthday unique and memorable. Whether it's your daughter's 21st birthday, your mother's 50th birthday or grandfather's 80th birthday.
To help you create a birthday crossword, we came up with a list of 75+ clues and question ideas. 😊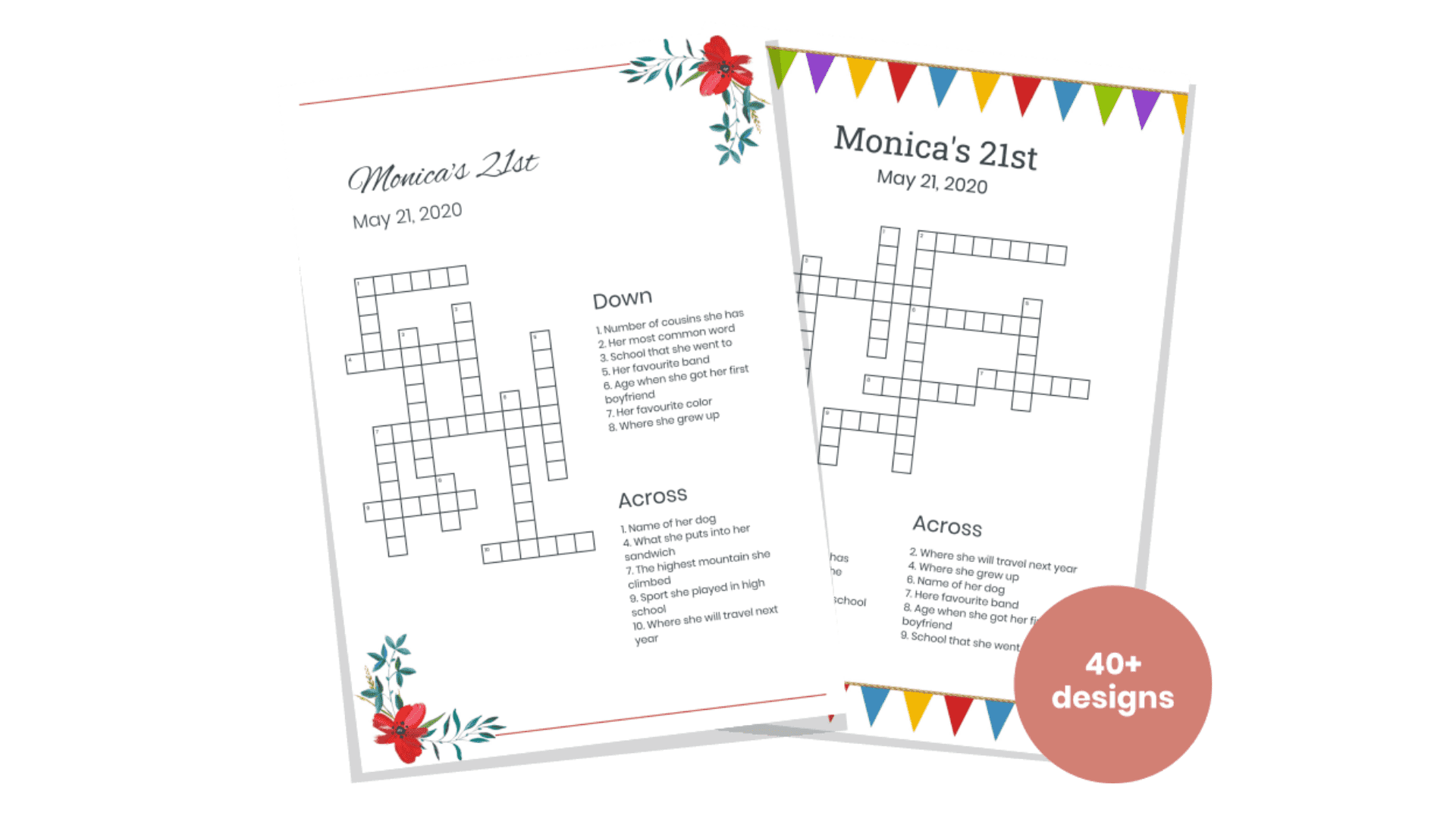 You can even use our crossword puzzle maker tool and create the puzzle in no time. There are 40+ designs you can choose from or you even upload your own. Personalize the crossword puzzle completely as you wish!
➡️ Click here to try our crossword puzzle maker.
Now let's jump to the list of the clues ideas below.
🥳 Personal details:
The city where she was born or grew up in
His second name
The color of her eyes
School he went to
He studied this
Her dream job is
Her profession is
The brand of the car she has
She cannot live without
Name of his best friend
Name of his pet
She is allergic to
Her zodiac sign
The thing he is most afraid of
🌠 Memories:
The cartoon or cartoon character she loved as a kid
When he was little he wanted to be a
Her highschool or childhood nickname
Name of his childhood best friend
Where did she go for summer camps
Name of his childhood pet
His first job was
Name of her first boyfriend
Where did she meet her husband
🗺️ Location & Travel:
The highest mountain she climbed
The farthest country he visited
The first or the most recent country he traveled to
Where did she first travel by an airplane
The country where he went skydiving for the first time
The city or country she would love to return to
The city or country he wishes to travel to
The city or a country he would like to live in
✔️ Numbers:
The number of languages she speaks
The number of times he took the driving licence test
The number of times he has broken a limb
The number of tattoos or piercings she has
The number of children she wants to have or has
The number of countries he visited
The number of nieces or grandchildren she has
The number of countries he lived in
🏟️ Hobbies & Free time:
The instrument she plays
The sport he plays
The genre of movies or books she likes the most
His biggest talent
He collects this (ex. stamps)
Her signature dish or dessert
The thing she most often does in her free-time
Her most known skill
He volunteers in
His celebrity crush or sport idol
The type of self-treatment she loves
The dish or dessert he loves to cook or bake
💚 Favourites:
Her favourite dish, dessert, snack or ice-cream flavour
His favourite drink or cocktail
Her favourite restaurant, bar or coffee shop
Her favourite movie or TV show
His favourite singer or band
His favourite radio station
Her favourite song
Her favourite color
Her favourite flower or plant
His favourite animal
His favorite country he/she visited
Her dream car
His favourite board game or video game
Her favourite sport
Her favourite sports team
His favourite book or writer
Her favourite school subject
Her favourite holiday or season
😆 Funny:
The funniest Halloween costume she ever wore is
How his mother calls him
The weirdest or grossest food she ever ate
You could bribe him with
The illegal thing she once did
The craziest color of hair he had
The worst or the funniest job she ever had
The weirdest date location or activity
He is a dog or a cat person
Now, are you ready to create a crossword puzzle? Try out our crossword puzzle maker which is very simple to use and enables lots of customization to create beautiful personalized crossword puzzles. 😊
➡️ Click here to try our crossword puzzle maker.
We hope this list helped!
We wish you a wonderful birthday celebration! ❤️