Do you want to make your big day even more memorable?
Wedding crossword puzzles with questions about the bride and groom are always a big hit at weddings.
Well-chosen clues can serve as great conversation starters for guest from different families that don't yet know each other, while for the elderly and those that are not keen on dancing can provide a fun and memorable activity.
To help you come up with the clues and save you time, we have created a list of 50+ clues ideas that you can use.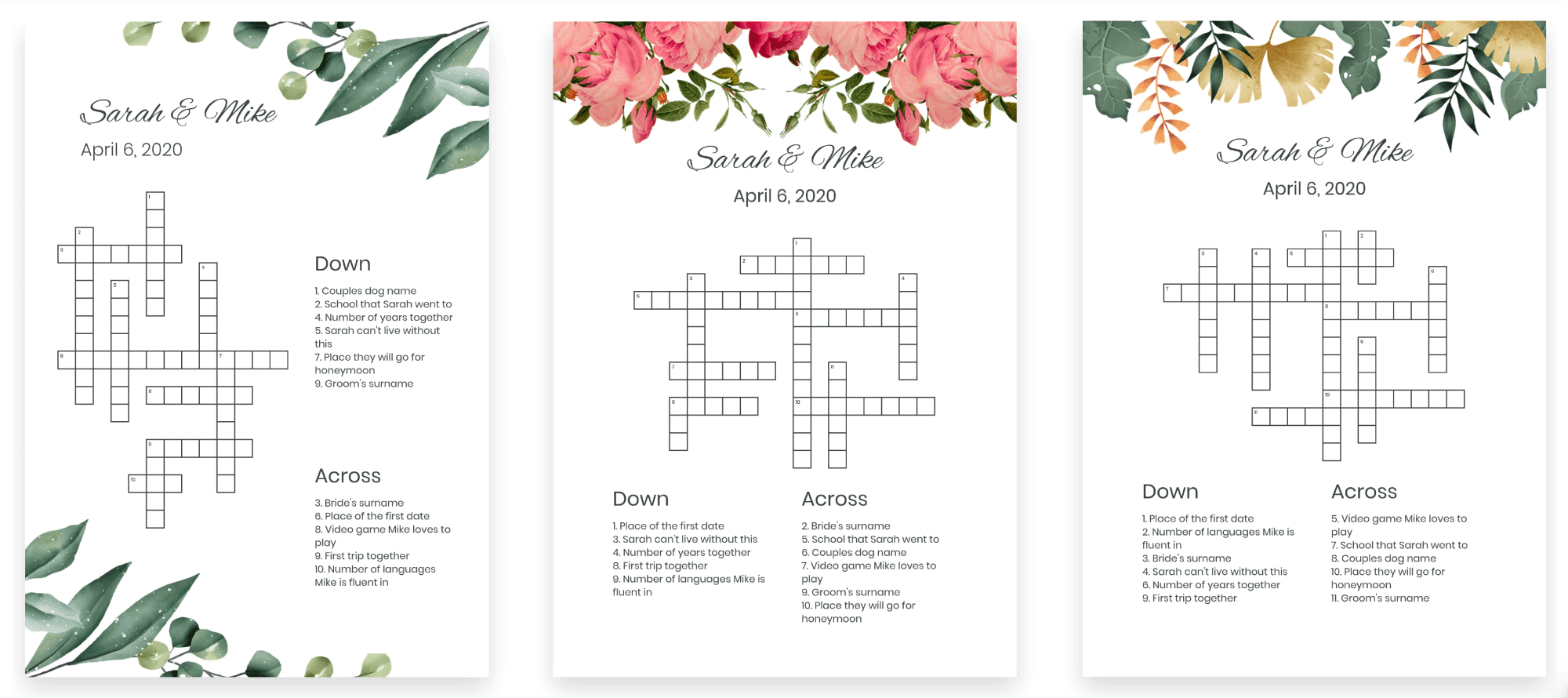 Once you choose your clues we suggest you to use our wedding crossword maker to create your wedding crossword. We specialise in this so you can expect the best and most beautiful results.
➡️ Go to our wedding crossword maker here.
Without further ado, here is the categorized list of crossword questions ideas.
👰🤵 Personal Details
Bride's surname
Number of cousins the couple have combined
Bride's middle name
Color of bride's eyes
Groom's biggest fear
Groom's childhood nickname
Village the bride grew up in
Groom's hometown
Name of the high school they both went to
Number of rooms in their apartment
What did bride study at university
🗺️ Location & Travel
The place they have first met
Where did he propose
Location of their first trip
Location of first kiss
Name of the street they live at
Location where he proposed
Their favourite trip together
Location of their honeymoon
Number of countries they visited together
Country they want to visit the most
The highest mountain they climbed together
⏱️ Time
Month when they have met
Month of their anniversary
Their favourite season
How long they have dated before moving in together
How long do they live together
💒 Wedding
Flavor of the wedding cake
Number of dresses bride tried
Number of bridesmaids
Number of guests
Name of the band
Name of the best man
Color of groom's tie
🏟️ Hobbies & Free Time
The instrument bride plays
Marathon that bride has run
Sport bride played in high school
First concert they saw together
The name of their dog
First dish they cooked together
💚 Favourites
Groom's favourite food
Their favourite hobby
Bride's favourite ice cream flavor
Bride can't live without this
Their favourite TV show
Brides favourite singer
Their favourite free time activity
What groom likes to eat for breakfast
Groom's favourite sports team
Their favourite wine
Their favourite restaurant
Their favourite bar
Their favourite song
Groom's favourite book
If you're ready to create your wedding crossword, you can try out our wedding crossword maker. We prepared more than 40 designs you can choose from and enabled lots of customization, so you can make it as beautiful as you wish it to be.
➡️ Go to our wedding crossword maker here.
We hope the list of clues helped!
We wish you a wonderful wedding and all the happiness in your marriage! 😊❤️